Who we are

As a child, I could hardly wait for summer to arrive so I could come here and stay the summer with my grandparents. When I married, I brought my wife here and she felt the same peace that I have always felt when I am here. In 1999, we moved here and made this our home.
After we were here a while, we discussed how we could share what we felt with others. It was my wifes idea to open a small rv park. We opened a small area for dry camping in May of 2000. The few customers we had that summer convinced us to put in water and electric. In 2001, we installed sewers and opened 23 sites with full hookups.
We now have a separate area for tent campers and a storage area for those who wish to store their rv for the winter months. We now have a shower room that is open for your use during the summer months. We will also be building a pavillion for playing music and family meetings.

Come and spend a night with us and you will see why we say
Almost Heaven, West Virginia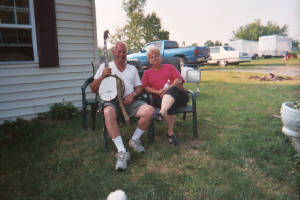 During the evening hours before going in for the day, we like to sit in the front yard and relax. This is the time for a little picking and a beverage. Our guests are welcome for conversation and a beverage, or to pick for a while. Evenings are very relaxing and quiet as we reflect on the day just past.

Our Hobby

Here at Shady Rest Rv Park, we are big fans of music, especially bluegrass music. We are always looking for groups to come out and have a jam session, and we invite our guests to come out and listen or join in. We have a standing rule at Shady Rest. If you play an instrument, and don't mind playing while our guests listen, we will give you a discount on your camping fees.
I am a great fan of the banjo and welcome any one who will pick with me. Let's make it an evening of music.